Rival states increasingly use hybrid tactics to influence democratic processes and exploit the vulnerabilities of their opponents. As a response, Western governments have progressively enhanced their situational awareness and developed capabilities to minimise damages from hybrid threats. In addition, they have also started to respond proactively to hybrid threats by implementing a range of policies to not just increase resilience and bolster defence but also to shape the adversary's behaviour through deterrence measures. However, deterring hybrid aggressors remains a difficult task.
Therefore, a new HCSS report by Mattia Bertolini, Raffaele Minicozzi and Tim Sweijs provides a set of non-technical policy guidelines for a counter-hybrid posture for small and middle powers (SMPs) that explains how core good practices of cross-domain deterrence can be developed, applied and embedded into policies and practice. The report focuses specifically on active measures associated with deterrence by punishment to provide policymakers with useful insights to craft proportional and effective strategies to deal with actors operating in the grey zone. It also describes the steps needed to manage escalation and anticipate potential second- and third-order effects. Importantly, in conjunction with a counter-hybrid deterrence posture, positive reassurances and incentives should be communicated to the adversary to encourage good behaviour.
A five-stage response framework is set forth consisting of
(i) the Preparation Stage;
(ii) the Detection & Attribution Stage;
(iii) the Decision-Making Stage;
(iv) the Execution Stage, and;
(v) the Evaluation Stage.
These stages are further subdivided into ten distinct steps, each including specific actions. The proposed response framework offers practical guidelines to develop, apply, and embed good core practices of cross-domain deterrence into an effective counter-hybrid posture.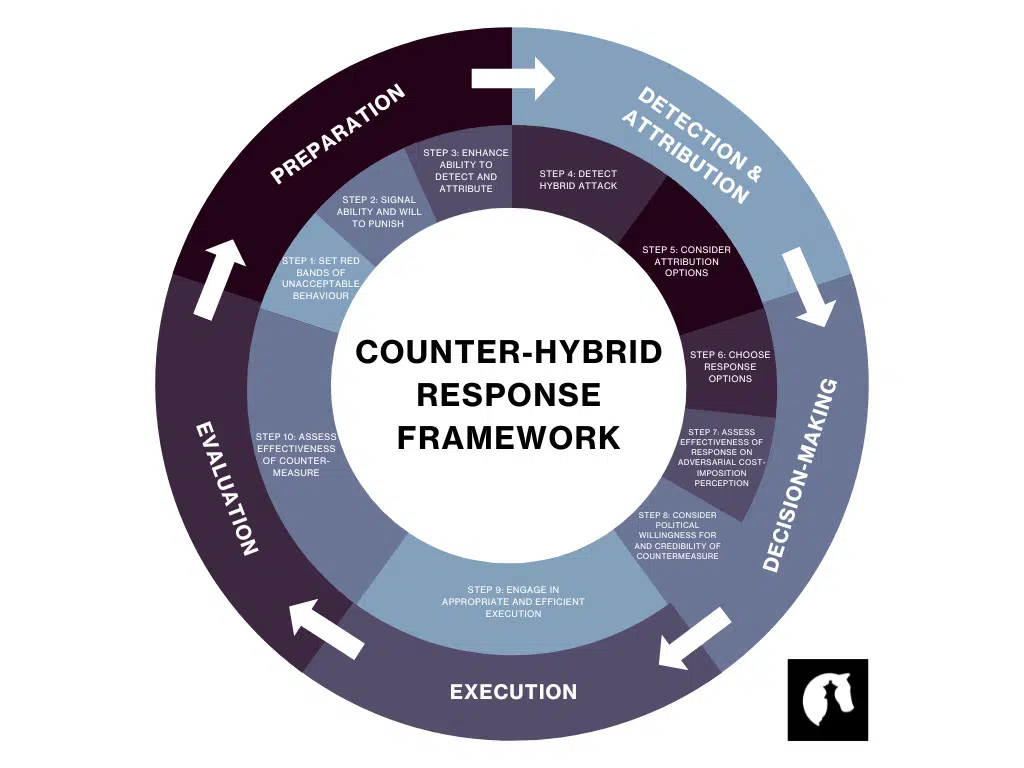 Authors: Mattia Bertolini, Raffaele Minicozzi and Tim Sweijs.
The research for and production of this report has been conducted within the PROGRESS research framework agreement. Responsibility for the contents and for the opinions expressed, rests solely with the authors and does not constitute, nor should it be construed as, an endorsement by the Netherlands Ministries of Foreign Affairs and Defence.