Monthly alert: Dutch Foreign Relations Index
Click here to access the alert.
How should the Dutch government prioritize partnerships with other nations? Which countries are strategically important? Which are compatible in terms of shared values? Traditionally, Dutch foreign policy has a dual orientation: the pursuit of Dutch interests on the one hand and the adherence to and promotion of norm-based values on the other. How to handle relationships in a increasingly connected and complex world? HCSS is developing a Dutch Foreign Relations Index (DFRI) as an analytical basis for a framework to provide guidance on this.
This Monthly Alert presents the findings of a high-level analysis of this first current iteration of the DFRI. It offers, from the Netherlands' perspective, an overview of the utility and compatibility of states worldwide and the changes therein over time. Clusters of countries are derived based on a combination of these two dimensions. The alert concludes with suggestions as to how the DFRI could be further developed and leveraged as an analytical input into the partnership prioritization process in Dutch official foreign and security policy making.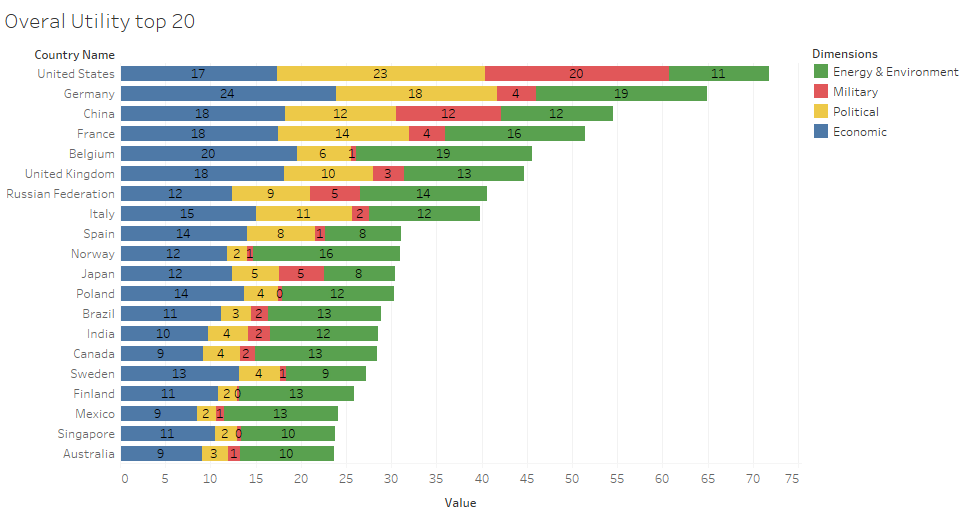 Top 20 strategically important countries (Utility, 2016)