On February 15 and 16, the government of the Netherlands hosted the first global Summit on Responsible Artificial Intelligence in the Military Domain: REAIM 2023 in The Hague, a platform for all stakeholders to discuss the key opportunities, challenges and risks associated with military applications of AI.
HCSS director of research Dr. Tim Sweijs participated in the breakout session on "Realities of Algorithmic Warfare: Use, Impact & Regulation", where he was a speaker in one and moderated a second out of the 3 panels.
How have these technological developments and the increasing use of AI in military operations been changing the way that wars are fought? "AI applications are affecting the character of war in a variety of ways, not yet through Battalions of Anthropomorphic Terminators but through the integration of AI in existing applications, along the entire OODA loop," Dr. Tim Sweijs said. "This will not only affect the tactical, but also the strategic level of war: imagine what a Deep Fake of Vladimir Putin announcing the launch of nuclear weapons will do to strategic stability. The impact of AI on the character of war and on international stability is here, it is real, and can be expected to progressively materialise in the years to come," Sweijs concluded.
Imagine what a Deep Fake of Vladimir Putin

announcing the launch of nuclear weapon will do to strategic stability

Tim Sweijs, HCSS director of research
What are the effects of this kind of technology on the OODA loop in military strategy, and how does AI change the role of human commanders in the decision-making process in warfare? "Typically, people tend to give the nomer AI to applications as long as they are novel, and as long as they solve problems that were previously associated with human intelligence," Tim Sweijs commented. "They thereby give it an aura of magic. But when that application becomes mainstreamed and commonly used, people stop calling it AI."
About the Breakout Session:
Advanced militaries are locked in what some call an AI arms race, in which they develop, experiment with and deploy (semi)autonomous technologies across global battlefields. While manufacturers and armed forces promise more effective engagement through increased speed and precision, academic and policy debates focus on the repercussions of machines making life-and-death decisions. This breakout session addresses these topics across three thematic panels focused on the realities of development & deployment, impact, and responsible use of military AI.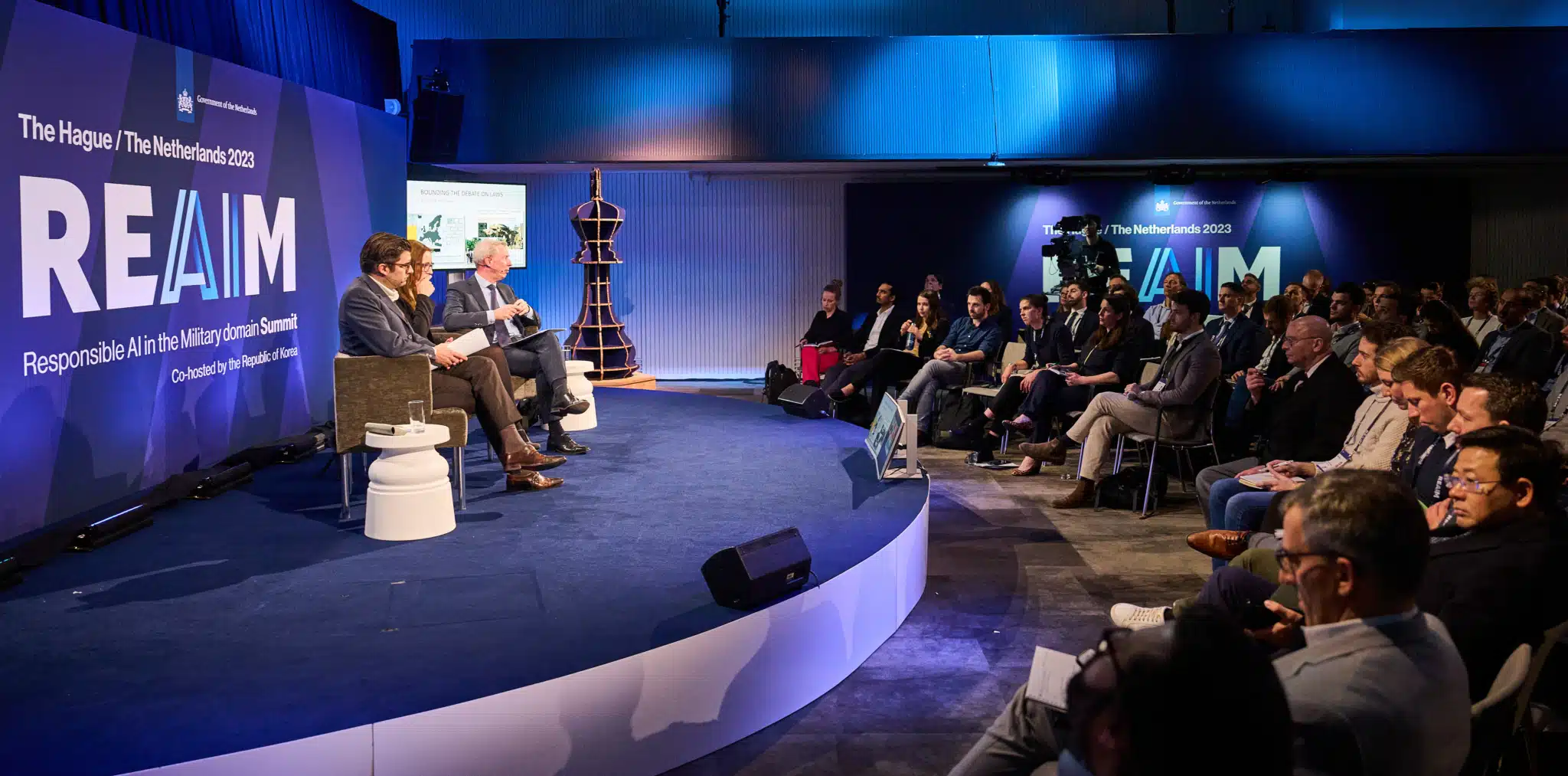 Panellists included:
Dr. Ingvild Bode, Associate Professor, Center for War Studies, University of Southern Denmark
Jessica Dorsey, Assistant Professor of International and European Law and Project Leader, Realities of Algorithmic Warfare, Utrecht University
Dr. Lauren Gould, Assistant Professor Conflict Studies and Project Leader, Realities of Algorithmic Warfare, Utrecht University
Dr. Marijn Hoijtink, Associate Professor in International Relations, University of Antwerp
Dennis Jansen, M.A., PhD Candidate, Utrecht University
Prof. Dr. Frans Osinga, Special Chair in War Studies, Leiden University and Professor of War Studies at the Netherlands Defence Academy
Dr. Tim Sweijs, Director of Research, The Hague Centre for Strategic Studies / Netherlands War Studies Research Centre
Ms. Anna Nadibaidze, PhD Fellow, University of Southern Denmark
Samar Abbas Nawaz, Doctoral Researcher, Peace Research Institute Oslo (PRIO)
Dr. Tom F.A. Watts, Leverhulme Early Career Research Fellow, Royal Holloway, University of London
Or watch the full recording of Day 1 of REAIM 2023 here. Dutch Minister of Foreign Affairs Wopke Hoekstra opened the summit with three sentences generated by ChatGPT, "showing the potential of AI, but also the potential of our combined wisdom".
The breakout session "Realities of Algorithmic Warfare" starts at 2h12min.