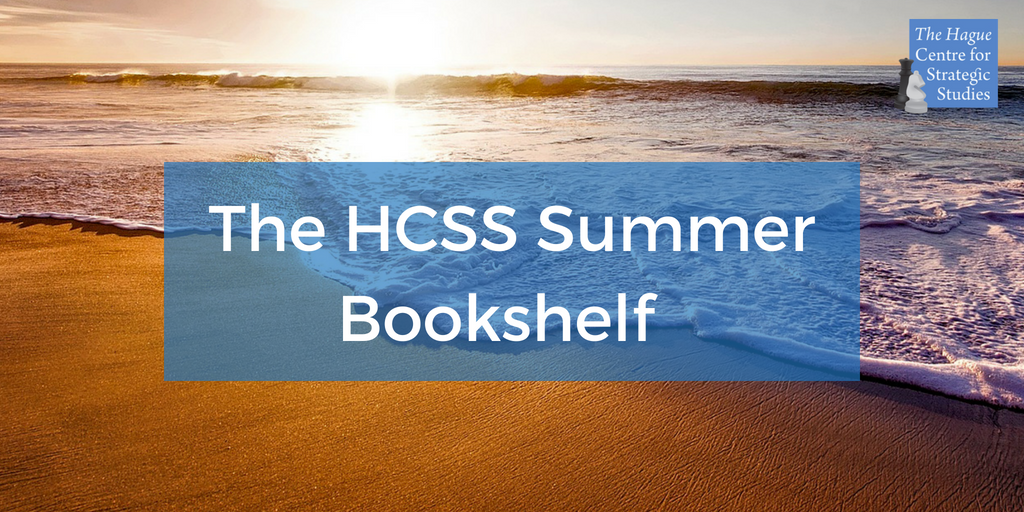 Whether lying on the beach or taking a long flight, summer is the perfect season to crack open a new book. In our latest edition of the HCSS Bookshelf, strategic analysts and assistant analysts offer their favorite picks for the season to help get you up to speed on the latest global trends and most pressing geopolitical issues. With suggestions ranging from the newest must-reads to modern classics with newfound relevance, these books are sure to increase your knowledge of the world and keep you reading all summer long.
Rob de Wijk – Director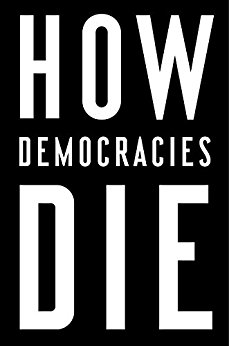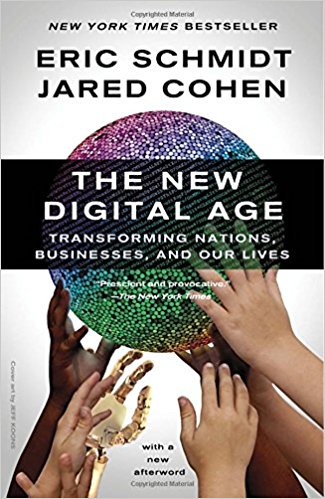 How Democracies Die (Steven Levitsky and Daniel Ziblatt, 2018)
Not only is the nature of the international system changing due to global power shifts, but the possibility of dying democracies could have further destructive effects as well. Levtsy and Ziblad explain that democracies can die with a coup d'etat or fade out slowly, which happens when an elected authoritarian leader abuses his powers. The authors argue that with the election of President Trump, this could happen to the United States as well.
The New Digital Age (Eric Schmidt and Jared Cohen, 2013)
Though not new, this book is still among the best on the impact of new technology, such as artificial intelligence, which IR scholars believe will have tremendous impact on the future of states, democracy, terrorism, the armed forces, and even revolution itself. Moreover, in the next decade, billions of new people will be connected to the Internet. Schmidt and Cohen explain the new opportunities and dangers of these developments.
Paul Sinning – Executive Director
War by Other Means: Geoeconomics and Statecraft (Robert D. Blackwill, Jennifer M. Harris, 2016)
The US has to shift its attention to an old discipline—the art of geoeconomics. This book not only provides an overview of geoeconomic instruments, but also outlines why the combination of 'soft' geoeconomic strategies and 'hard' military power are essential preconditions for an effective foreign policy. Mandatory reading for political leaders in Europe as well!
Michel Rademaker – Deputy Director, Market and Operations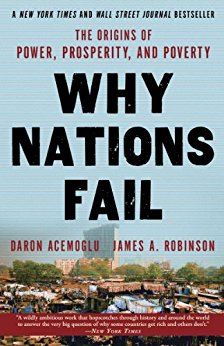 Why Nations Fail (Daron Acemoglu and James A. Robinson, 2012).
"It's about national income differences within the modern world, perhaps the biggest problem facing the world today. It's peppered with fascinating stories that will make you a spellbinder at cocktail parties—such as why Botswana is prospering and Sierra Leone isn't. And it's a great read. Like me, you may succumb to reading it in one go, and then you may come back to it again and again." – Jared Diamond, Pulitzer Prize–winning author of the bestsellers Guns, Germs, and Steel and Collapse.
Frank Bekkers – Director, Security Program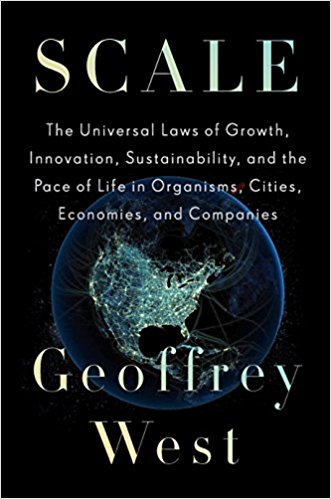 Scale: The Universal Laws of Growth, Innovation, Sustainability, and the Pace of Life in Organisms, Cities, Economies, and Companies (Geoffrey West, 2017)
"From one of the most influential scientists of our time, a dazzling exploration of the hidden laws that govern the life cycle of everything from plants and animals to the cities we live in. Visionary physicist Geoffrey West is a pioneer in the field of complexity science, the science of emergent systems and networks. The term 'complexity' can be misleading, however, because what makes West's discoveries so beautiful is that he has found an underlying simplicity that unites the seemingly complex and diverse phenomena of living systems, including our bodies, our cities and our businesses." (Penguin Random House Synopsis).
Tim Sweijs – Director Research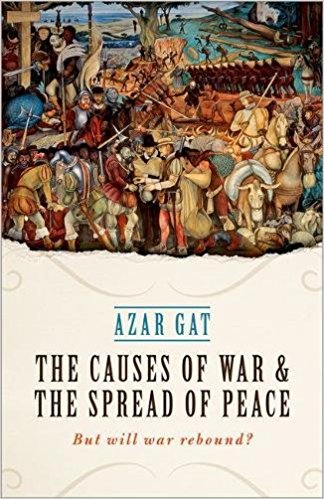 The Causes of War and the Spread of Peace: But Will War Rebound? (Azar Gat, 2017
Over a decade after his magnitudinous War in Human Civilization, Israeli military historian Azar Gat, re-examines why people and states warre. Gat explains that war in fact has declined over time, but also warns that the causes of war have certainly not withered away. The breadth and depth of his analysis is once again impressive.
Stephan De Spiegeleire – Senior Analyst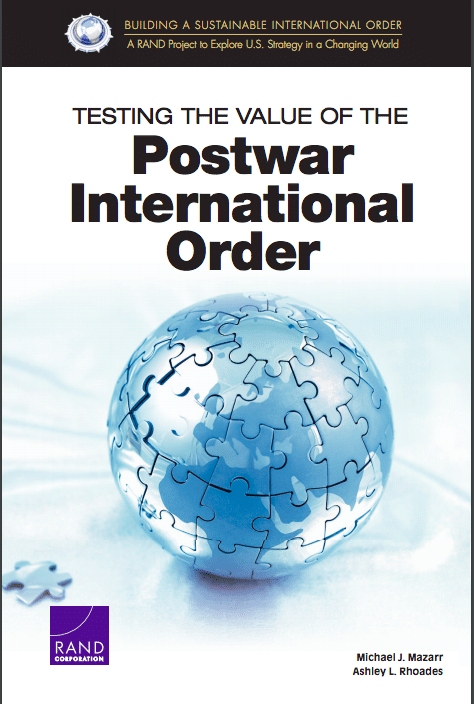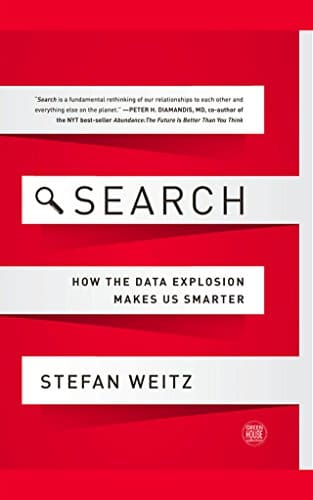 Testing the Value of the Postwar International Order (Free PDF) (RAND; Michael J. Mazarr, Ashley L. Rhoades, 2018)
U.S. President Trump's antics may lead many of us to forget that there remains a solid consensus in the more mainstream US foreign and security policy community in favor of a global multilateral international order. This RAND report provides a hard-nosed value-for-money analysis of how this order has benefited U.S. interests and objectives. The policy analytical world—also in Europe—has to find better ways to bring this message home.
Search: How the Data Explosion Makes Us Smarter (Stefan Weitz, 2016)
High-quality policy analysis is supposed to be based on validated evidence and knowledge. These are, alas, rare commodities in the fields of foreign, security and defense policy in which HCSS works. Unbeknownst to most, however, is that major players like Google, Microsoft, IBM and others have been building (and validating) massive knowledge graphs that are starting to methodically 'decode' and structure the knowledge that humans have 'encoded' in articles, books, and datasets—but also in the digital exhaust all of us increasingly leave across data servers. Regrettably little is known about these unprecedented efforts, but in this book Stefan Weitz, the former Director of Search at Microsoft, gives us a rare glimpse into how 'search' is no longer just about giving us answers to our questions, but about making 'digital' knowledge actionable in the 'physical' world as well.
Willem Oosterveld – Strategic Analyst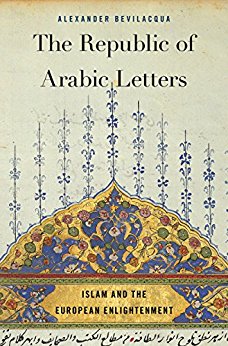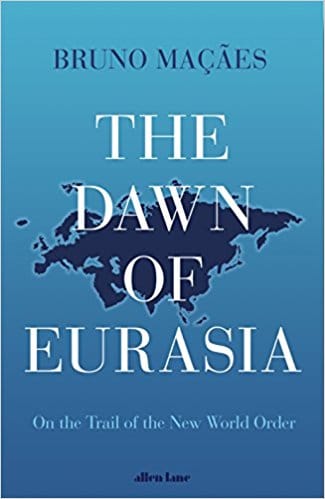 Alexander Bevilacqua, The Republic of Arabic Letters: Islam and the European Enlightenment (Alexander Bevilacqua, 2018)
One more antidote against the idea that there is an innate distinction between East and West. While the likes of Edward Said (of 'Orientalism' fame) put scholars such as d'Herbelot and Erpenius in the dock for peddling implicit notions about Western superiority over the East—mostly the Ottoman-dominated Middle East—Bevilacqua actually shows that early scholars of Middle Eastern languages and culture were interested in deepening understanding and promoting cultural exchange instead. He also highlights the Dutch tradition in this field, discussing the contributions of 17th-century scholars Erpenius and Golius, among others in Leiden, which had established the first chair ever in Europe dedicated to Arabic letters. Poignantly, as reviewer Robert Irwin noted in another review, the name of Said does not appear in the book at all.
The Dawn of Eurasia (Bruno Macaes, 2018)
A travelogue-cum-political analysis of how the borderlands between Europe and Asia are evolving as power is shifting (back) towards the East. A former Portuguese cabinet official, Macaes travels the Caucasus, Central Asia and China in order to get a sense of how the world's largest landmass is becoming ever more interconnected. A nice companion to John Darwin's After Tamerlane and Colin Thubron's Shadows of the Silk Road.
Karlijn Jans – Strategic Analyst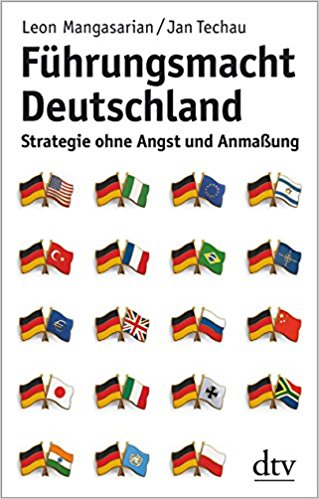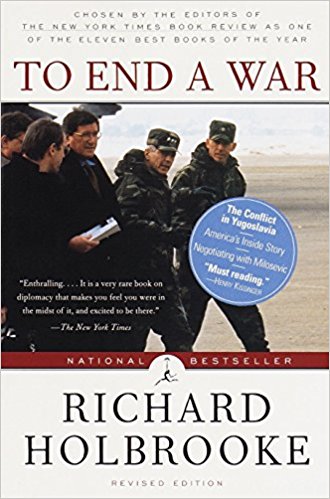 Führungsmacht Deutschland (Jan Techau and Leon Mangasarian, 2017) [In German]
If you would like to understand Germany's awkward leadership role in present times, this is an absolute must read. With a transatlantic relationship becoming more strained and Germany taking center stage in many policy and political discussions, it is key to understand its position—something the authors meticulously describe. A leading role runs contrary to the country's self-image and to a culture of restraint that emerged from the catastrophe of World War II. The book's central question: how can Germany assume more leadership responsibility without frightening itself and others? A difficult question to answer.
To End a War (Richard Holbrooke, 1998)
A classic, now 20 years since its first edition, To End A War is a first-hand account by the late Richard Holbrooke, former assistant secretary of state and architect of the Dayton Agreement, on his efforts to bring about an end to the war in Bosnia. The book offers a fascinating look behind the scenes of the perilous diplomatic negotiations that brought peace to the Balkans after a complex and bloody conflict. Many of the lessons learned during that period ring true in 2018.
Reinier Bergema – Strategic Analyst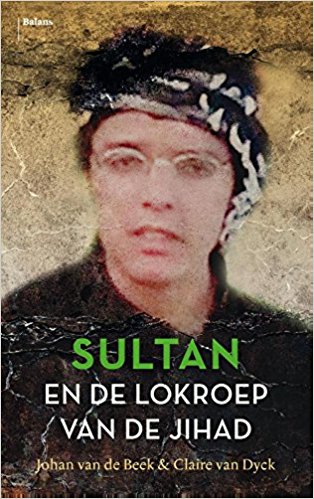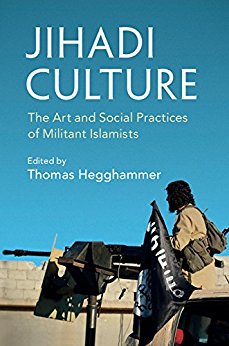 Sultan en de lokroep van de jihad [In Dutch] (Johan van de Beek & Claire van Dyck, 2017)
While the Islamic State piled up one military victory after another, their appeal to Westerners increasingly grew. Sultan en de lokroep van de jihad, authored by Johan van de Beek and Claire van Dyck, sheds light on the lives of four Dutch citizens who decided to pack their bags and travel to Syria and Iraq. The book, named after one of the main characters who reportedly carried out a suicide attack in Baghdad, demonstrates the complexity and intangibility of radicalization processes, and offers an impressive, in-depth insight into the lives of four seemingly unremarkable people who joined one of the most violent terrorist organizations of our time.
Jihadi Culture: The Art and Social Practices of Militant Islamists (Thomas Hegghammer, 2017)
Jihadi Culture: The Art and Social Practices of Militant Islamists, edited by Thomas Hegghammer, discusses the important but underexposed soft, cultural dimension of jihadism. The book examines, among other things, the strategic importance of jihadist anasheeds (i.e., Islamic vocal music), the role of poetry in jihadi subculture, and jihadi cinematography. Understanding this cultural dimension is crucial to understanding the overall appeal of and social cohesion within such violent terrorist organizations.
Katarina Kertysova – Strategic Analyst

Louk Faesen – Strategic Analyst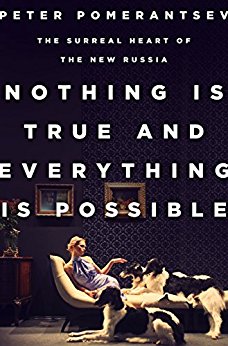 Nothing Is True and Everything Is Possible (Peter Pomerantsev, 2017)
This book offers a captivating insight into political, social and economic challenges facing Russia today. Part reportage and part memoir, the book tells the story of modern Russia through the lens of a knowing outsider, a Soviet-born British journalist, working for a network called TNT. Political intrigues, state control of the media, corruption, an iniquitous justice system, military service—each chapter offers a fascinating and entertaining (albeit tragic and disturbing) story. Of particular relevance is Pomerantsev's exposure of the inner workings of Russia's government and the influence Kremlin holds over the media. This is a must-read for anyone seeking to understand Putin's Russia.
Katarina Kertysova – Strategic Analyst

Noah Wanebo – Assistant Analyst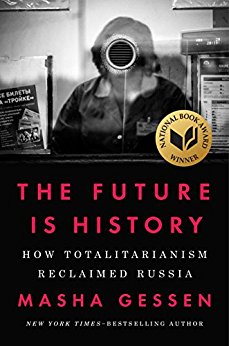 The Future is History: How Totalitarianism Reclaimed Russia (Masha Gessen, 2017)
In her latest book, Russian-American journalist and activist Masha Gessen provides a narrative of the USSR's collapse and Russia's failure to reform and build democracy. The book tells Russia's story through the eyes of several protagonists who were born on the eve of Gorbachev's reforms, lived most of their lives under Putin, and have experienced Russia's return to a heavy-handed state. As the subtitle of the book suggests, the author believes that totalitarianism—albeit muted and less extreme—has reclaimed the country. Although this conclusion may not convince all readers, her case that 'Homo Sovieticus,' created a century ago with the Bolshevik revolution, did not die out with the Soviet Union is convincing.
Jan Frederik Braun – Strategic Analyst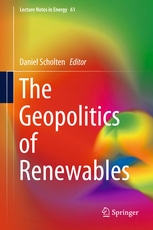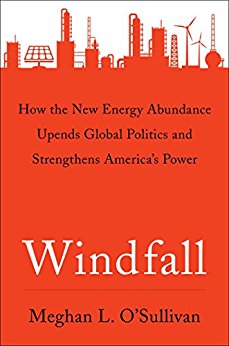 The Geopolitics of Renewables (Daniel Scholten, 2018)
The geographic and technical characteristics of renewable systems are significantly different from those of fossil fuels. As a result, the global transition to renewables represents a game changer for interstate relations. Edited by Dr. Daniel Scholten, an Assistant Professor at the TU Delft, this book investigates how the characteristics of renewables reshape energy relations in terms of cooperation and conflict on global, regional and bilateral levels. This book is an essential starting point for academics and practitioners to investigate this increasingly important topic.
Windfall: How the New Energy Abundance Upends Global Politics and Strengthens America's Power (Meghan L. O'Sullivan, 2017)
The current global energy transition is as much about renewables like wind and solar power as about how the oil and gas sector itself is changing. The shale revolution (i.e. the widespread ability to extract shale gas through hydraulic fracturing of rock or 'fracking') has moved the United States from being 'addicted to oil' to one of the world's biggest oil producers and net exporter of natural gas. Meghan O'Sullivan, a professor at the Harvard Kennedy School, argues that America's new energy abundance not only strengthens the US economy, but has also redefined the geopolitics of energy—the impact of energy flows on the power and influence of both producer and consumer nations. A riveting read!
Paul Verhagen – Associate Data Analyst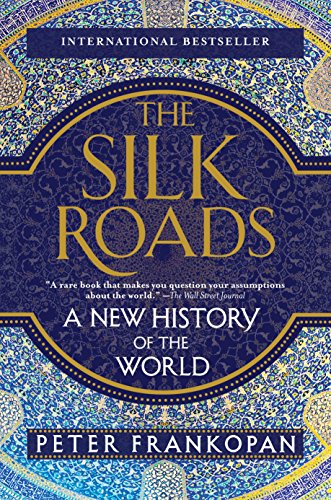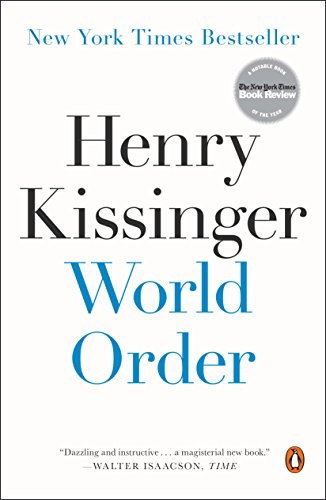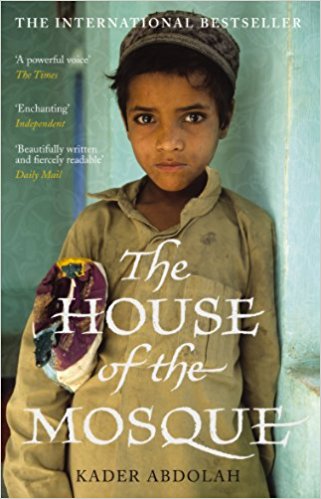 The Silk Roads (Peter Frankopan, 2015)
A detailed study of the Silk Roads, their origins, and the ideas, commodities and religions that flowed across them. This topic remains relevant for modern readers, as it is one of the oldest examples of globalization and its implications.
World Order (Henry Kissinger, 2014)
This books is as close to a brief history of international relations as one can get. Do you need to relate the relevance of the Syrian conflict to the League of Nations vis-a-vis the Treaty of Westphalia? This book has you covered for all of that, and more.
House of the Mosque (Kader Abdolah, 2005)
This book is a partially fictional account of a family living through the fall of the Shah, the rise of the Ayatollahs and the social disruptions that everyday Iranians experienced. By depicting the human side of modern Iranian history, it offers a different perspective on an increasingly relevant global actor.
Eric Wilms – Strategic Analyst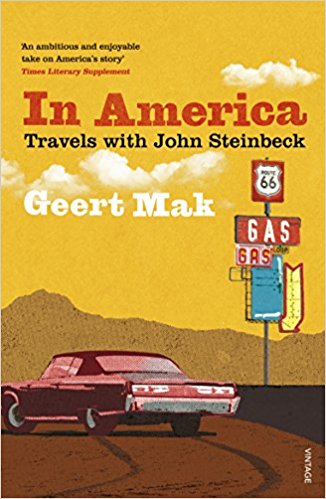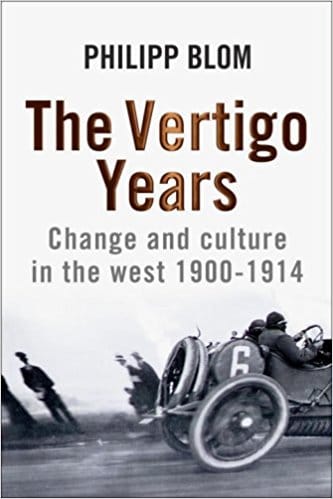 In America: Travels with John Steinbeck (Geert Mak, 2014)
"In 1960 John Steinbeck and his dog Charley set out in their green GMC pickup truck to rediscover the soul of America, visiting small towns and cities from New York to New Orleans. […] Half a century on, Geert Mak retraces Steinbeck's footsteps through the potato fields of Maine to the endless prairies of the Midwest, sits down to eat with farmers, workers, fisherman and teachers, stumbles across glistening suburbs and boarded-up stores, he searches for the roots of America and what remains of the restless, prosperous world Steinbeck describes. Part biography, part cultural history, In America asks how America has changed in the last 50 years; what's happened to Main Street, USA, and the American dream; and what do we, Europe and America, still have in common in the twenty-first century?" You can read the rest of this publisher's synopsis here.
The Vertigo years: 1900-1914 (Philipp Blom, 2009)
"Blom's engrossing history begins with an invitation: 'Imagine yourself looking at the years 1900 to 1914 without the long shadows of the future darkening their historical present.' His imaginative re-creation of this period argues that speed—both literal and figurative—came to typify and, ultimately, define modern life. This was the age that gave rise not only to Futurism and Vorticism but also to car racing and the electric chair. Precipitate change also ushered in an age of uncertainty and attraction to the seeming stability of the past. The book's strength is also its charm—a multifaceted, panoramic approach animated by vivacious narration of individual stories, such as that of Eugene Sandow, the wildly popular Prussian bodybuilder and pioneering fitness mogul who counted George V and Sir Arthur Conan Doyle among his friends." (Read the rest of the New Yorker Review here).
Lucie Kattenbroek – Assistant Analyst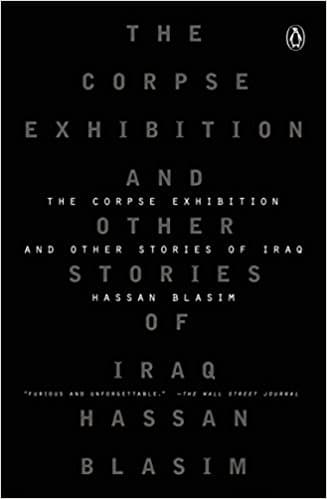 The Corpse Exhibition (Hassan Blasim, 2014)
Blasim's collection of stories, rarely longer than ten pages, is magnificent in the paradox of literary tones. As an Iraqi writer in the aftermath of the 2003 war, his writing shows only indirectly the influence of war on a society. The stories and fables in this book reminds us once again that war never stays confined to the battlefield. Definitely not for the faint of heart.
Eline Wildöer – Assistant Analyst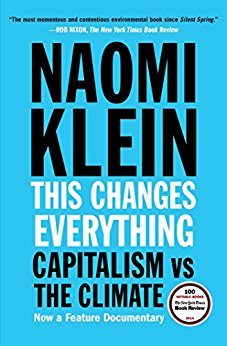 This Changes Everything: Capitalism vs. The Climate (Naomi Klein, 2015)
This thought-provoking and meticulously written New York Times bestseller focuses on an unusual hypothesis: climate change, one of the most pressing challenges of our time, cannot be tackled by societies that are guided by neoliberal market fundamentalism. Whether you agree with the author or not, her work, which uncovers and dismantles climate practices and which combines politics, science, economics and psychology, is certainly worth a read.
Noah Wanebo – Assistant Analyst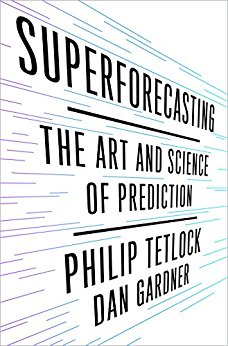 Superforecasting: The Art and Science of Prediction (Philip E. Tetlock & Dan Gardner, 2015)
Released in 2015, this book's relevance has only grown following a string of political upsets that stunned observers across the West, including Brexit and the election of Donald Trump. Written in part to clarify arguments in Tetlock's previous book, Expert Political Judgement, which asserted that experts are no better at predicting events than dart-throwing chimps, Superforecasting examines the ways in which—and the extent to which—accurate forecasting can take place. The book centers around data gathered in the Good Judgement Project, an online prediction challenge funded by the US intelligence community, with Tetlock and Gardner exploring the strategies and best practices of the so-called "superforecasters" that emerged in the study. The authors then distill their best strategies down into the so-called "Ten Commandments"—common-sense advice for predicting events that analysts in any field ought to bear in mind.
Mihailo Jovetic – Assistant Analyst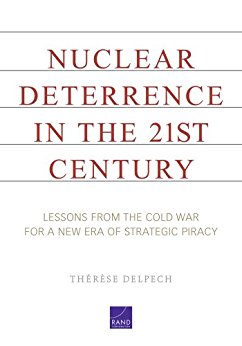 Nuclear Deterrence in the 21st Century: Lessons from the Cold War for a New Era of Strategic Piracy (Free PDF) (Thérèse Delpech, 2012)
A modern-day take on deterrence issues and challenges that have been extensively discussed in the last century by the likes of Schelling, Halperin and Freedman. Accessible and well-structured, the book gives a conceptual, historical, and forecasting overview of everything related to nuclear strategy.
Kristina Tranakieva – Assistant Analyst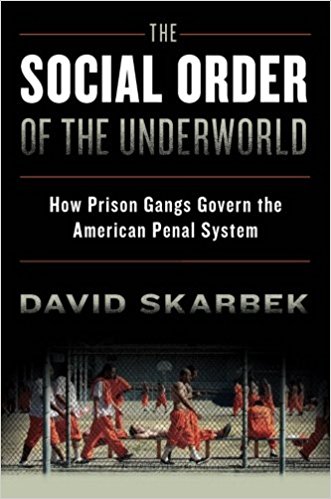 The Social Order of the Underworld: How Prison Gangs Govern the American Penal System (David Skarbek, 2014)
Skarbek's book is an illustration of the natural experiment that he argues occurs in the American prison system in which people exist in a lawless state and have to construct their own governance through extensive norms and rules in order to survive (and facilitate business). His rational choice-focused analysis provides an in-depth understanding of the foundations of any illicit organization, beyond the gangs he introduces. For a similar analysis but on drug cartels, also consider Narconomics by Tom Wainwright.
Lotte de Jong – Assistant Analyst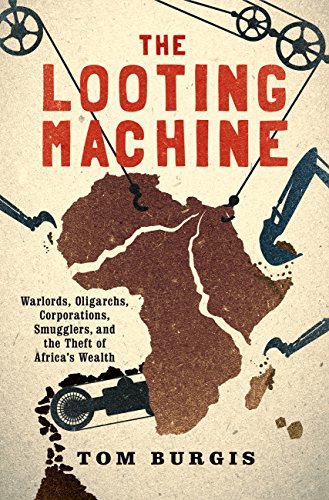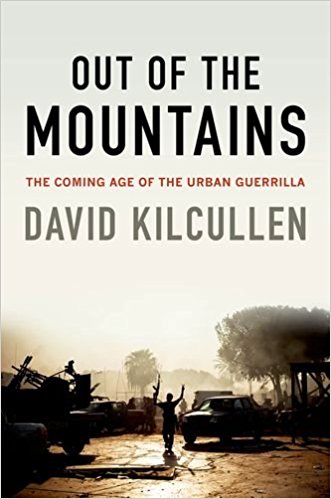 The Looting Machine (Tom Burgis, 2015)
Based on his experiences travelling through Africa as a reporter for the Financial Times, Burgis gives great insight into the on-the-ground dynamics of the infamous "resources curse." By telling the stories of colourful but dubious characters from all over the world, he explains how corrupt regimes, together with Western corporations and investment bankers, have successfully deprived resource-rich African countries of their economic potential. In addition to this more historical account, the story of the Chinese businessman Sam Pa provides a better understanding of the controversy of Chinese investments in Africa today.
Out of the Mountains: the Coming Age of the Urban Guerrilla (David Kilcullen, 2013)
Through numerous case studies, Out of the Mountains offers thought-provoking insight into the future of conflict. Population growth, urbanisation, and ever increasing connectivity between populations are some of the most important factors changing the dynamics of societies today. Combining tactical understanding from operations on the ground with insight into the policy and strategy decisions made at the highest levels of government, Kilcullen provides an interesting perspective on how these dynamics will shape conflicts in the megacities of tomorrow.
Matt Phillips – Assistant Analyst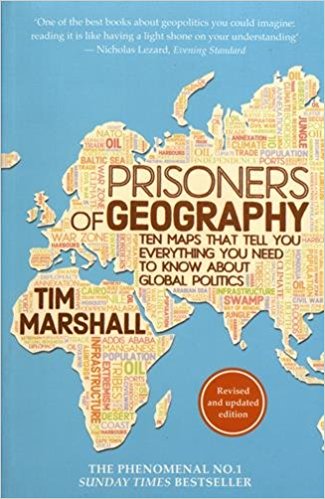 Prisoners of Geography (Tim Marshall, 2015)
This book forces you to question your current understanding of geopolitics by focusing on the 'geo'. Marshall puts forth an explanation of current international relations and national interests through a geographical lens, which is often overlooked in the modern interconnected and technological world. The book is engaging and well-written, and leaves you feeling not only more informed, but better able to analyse global events through this important geographical lens.