The military application of information has played a pivotal role in shaping the outcomes of wars and conflicts throughout history. Strategies aimed at influencing human behaviour on the battlefield have encompassed various tactics, including deception, troop morale management, and the moulding of public opinion. Such tactics fall under the umbrella of Behavioural Influencing, which involves purposefully altering the behaviour of individuals by targeting their knowledge, beliefs, and emotions. Within the Dutch armed forces, these tactics are categorised as Information Manoeuvre, reflecting their significance in contemporary warfare.
As information-based capabilities increasingly pervade military operations, the boundaries between the physical and cognitive battlefields have become blurred. Recognising this evolving landscape, a range of experts have come together to contribute to a comprehensive paper series on the employment of information-related capabilities to influence human behaviour within a military context, from the perspective of individual European or NATO countries.
Edited by Arthur Laudrain, Laura Jasper, and Michel Rademaker, the Information-based Behavioural Influencing and Western Practice paper Series presents a collection of cutting-edge research and analysis on the intersection of information warfare, human behaviour, and military practice. The series serves as a valuable resource for policymakers, military professionals, and researchers seeking to navigate the ever-evolving landscape of information-based capabilities and their influence on human cognition and decision-making.
In their paper, Deception as the Way of Warfare: Armed Forces, Influence Operations and the Cyberspace paradox, authors Peter Pijpers and Paul A.L. Ducheine examine the evolution of influence and deception techniques in the context of cyberspace. They highlight that while cyberspace has provided new opportunities for influence operations, Western European states, including the Netherlands, are increasingly hesitant to utilise them due to governance constraints. The paper raises the question of whether modern cyberspace-induced influence operations fundamentally differ from traditional deceptive tactics and so whether European hesitancy is warranted.
In their paper, Smart Tactics or Risky Behaviour? The Lawfulness of Encouraging Civilians to Participate in Targeting in an Age of Digital Warfare, authors Pontus Winther and Per-Erik Nilsson explore the challenges posed by digital technology in the context of modern warfare, with a specific focus on the Russian invasion of Ukraine. The authors examine the use of smartphone applications and chatbots by Ukrainian civilians as "spotters" of enemy movements, highlighting the legal implications for these civilians under International Humanitarian Law (IHL). They argue that civilians engaging in the targeting process may lose their legal protection, leading to lawful killings or injuries by Russian armed forces, potential trials under Russian domestic law, and difficulties in proving IHL breaches. The paper underscores the importance of precautionary measures and instructions for civilians utilising mobile phone "spotting tools" to mitigate risks and safeguard against legal repercussions.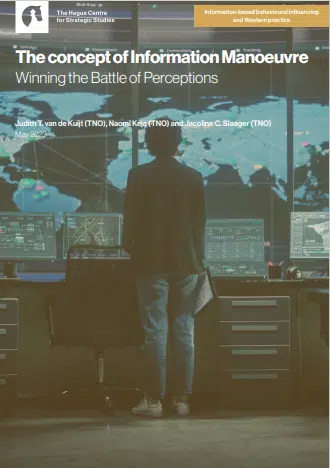 In this paper, The concept of Information Manoeuvre: Winning the Battle of Perceptions, authors Judith van de Kuijt, Naomi Keja, and Jacoline Slaager address the evolving information environment and its impact on military operations. They highlight the need for the Dutch army to adapt and enhance its information position and handling capabilities in response to these changes. The authors emphasise the ongoing debate surrounding the definition of Information Manoeuvre, particularly in terms of its effects and the use of information as a weapon. They raise crucial questions about the essence of the concept and its elements, as well as the practical implications of executing Information Manoeuvre in a military context. The brief lays the groundwork for further applied research into the characteristics and scope of Information Manoeuvre, presenting four fundamental elements and three dilemmas for exploration.
In the paper, Cognitive Warfare as Part of Society: Never-Ending Battle for Minds, guest author Robin Burda examines the challenges faced by liberal democracies, specifically Czechia and Ukraine, in dealing with Cognitive Warfare (CW). The paper underscores the importance of cooperation and support among European Union (EU) and North Atlantic Treaty Organisation (NATO) member states in countering CW threats. It highlights the need for each nation to address CW within their societies while advocating for defensive measures enforced by the EU and NATO. The paper emphasises the delicate balance between strengthening democracy and regulating malign influences in media and society to protect liberal democratic values. It suggests involving actors from various societal groups to mitigate the negative impact of CW, acknowledging its persistence as an integral part of society. The paper further recommends adopting best practices from countries like Finland and establishing a transparent framework that balances active defence and freedom of speech to effectively combat CW challenges while preserving identity and democratic values.
In this paper, Influencing security professionals: Are they biased and by which source? guest author Johan de Wit provides concise summaries of four key studies that delve into the factors influencing our intuitive or reasoned perceptions of risk. The first part focuses on two studies examining the role of information and its sources in shaping our perception of risk. The second part presents summaries of two studies that investigate biases and heuristics affecting decision-making when interpreting information. All studies are conducted within the professional security domain, aiming to understand real-life security risk decision-making processes. The findings highlight fundamental human traits that can be exploited to influence decision behaviour, emphasising the importance for responsible decision-makers to be aware of these traits and consider them in their daily practice, as the results demonstrate their significant impact on the judgements of experienced professionals.
In this paper, A discursive analytical approach to understanding target audiences. How NATO can improve its actor-centric analysis, authos Yannick Smits addresses evolving operational environment of NATO, where information-based influencing (IBI) operations have gained prominence in modern warfare. NATO has recently revised its doctrine to centre around influencing human behaviour due to the increased opportunities for state and non-state actors to target military and civilian populations. The paper addresses two key puzzles: how to enhance the potential success of IBI operations before implementation and how to better measure their effects after the campaign. Taking a discursive analytical approach, the paper emphasises the importance of understanding the target audience's (TA) identity and behaviour nexus. By interpreting how the TA discursively constructs its identity-behaviour relationship, NATO can gain valuable insight into the TA's receptivity to IBI before and after its application, going beyond traditional psychological and sociological methods.
In this paper, Behavioural Influence Interventions in the Information Environment: Underlying Mechanisms and Technologies, authors Hans Korteling, Béatrice Cadet, and Tineke Hof, focus on utilising scientific and psychological insights to influence judgement, reasoning, and decision-making in the context of information warfare. The authors delve into the neuro-evolutionary origins of cognitive biases and their impact on human thinking, which often deviates from logical and probabilistic reasoning. They argue that information warfare can exploit these biases to achieve desired outcomes, providing examples of how biases can be subtly manipulated in both offline and online environments to influence behaviour. The paper emphasises the need for a comprehensive framework and methodology, including influence interventions, operational procedures, risk management, and support tools, while upholding democratic, juridical, and ethical principles. The authors share their progress and findings in developing such an approach.
This week we are highlighting all of our work on information warfare and influencing human behaviour. Stay up-to-date on the latest and past content on the Influencing Human Behaviour landing page!