Our HCSS monitor database contains over three thousand indicators which we use to track global geodynamics. We create models and monitors for public and private organizations to improve their situational awareness and provide them with a better understanding of their strategic environment. We also compile, collate and generate new datasets, design tailor-made analytical frameworks and build fully interactive web interfaces. Our in-house competencies include predictive modeling using both structural and dynamic data, web scraping, text mining, advanced internet search techniques and data visualization.
Products and Services
HCSS provides a variety of products, which include:
Full online dashboards and storyboards, with automated updates and interactive visuals

Global monitors

Predictive models

Risk assessments

Issue briefs and factsheets

Boardroom consultancy

Full-fledged reports
Examples of our products and services include the HCSS Political Violence Monitor, the Economics of Planetary Security and the Drivers of Vulnerability Monitor.
HCSS Political Violence Monitor
Our political violence risk assessments are generated daily using HCSS proprietary analytical forecasting models, that incorporate both structural and dynamic event data based on the processing of hundreds of thousands of open source reports of events from around the world. The HCSS Political Violence Monitor can be accessed in a secure (i.e., password protected) online environment.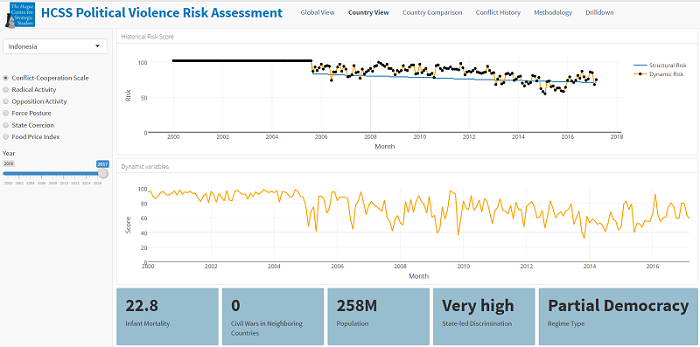 Planetary Security Monitor
The monitor is innovative in its inclusion of security risks related to the transition to a low carbon economy, a topic of increasing concern for financial investors and conflict analysts.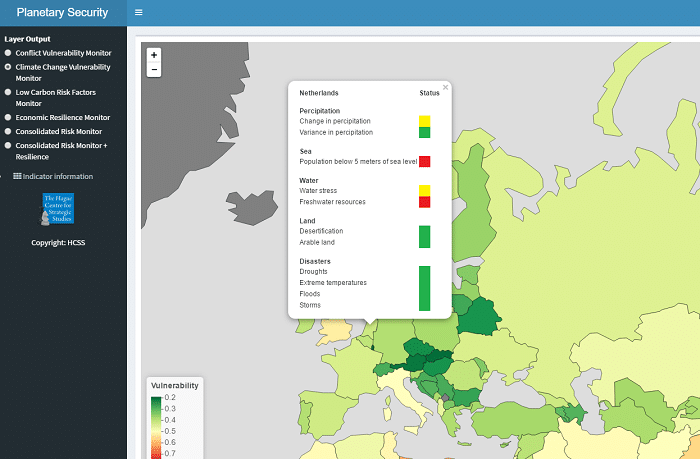 Click on the map to access the monitor
Planetary security refers to the role of the environment in geopolitical risks and conflicts. As a relatively unexplored concept, the monitor is intended for policy makers and business professionals, examines the economic aspects of planetary security and, in particular, the vulnerabilities and resilience of countries to environmentally induced conflict.
The quantitative framework is divided into four different layers. Each layer is built on various individual variables and based on existing analyses of these variables which together constitute the substantial value of each layer. The first layer focuses on Conflict Vulnerability, the second on Climate Change Vulnerability, the third on Low Carbon Risk and the fourth on Economic Resilience.
These layers were then combined to provide a Consolidated Risk Layer, which consists of Layer One to Three, and a Consolidated Resilience Layer, combining all four layers in order to show how resilience to the above vulnerabilities could be bolstered.
The Drivers of Vulnerability Monitor
The Drivers of Vulnerability Monitor is a 21st century tool to explore our 21st century security environment. It contains over 50 drivers of state vulnerability to intrastate conflict for around 200 countries from over twenty years. It combines the expertise of decades of conflict research with a data driven approach, presented in one interactive interface.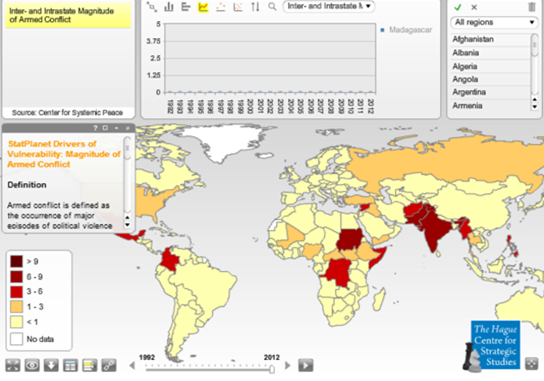 The DoV Monitor is set up to allow end users to explore the vulnerability of states from a multitude of angles. It can display data on a global and a regional level, allowing users to assess both general trends and patterns of vulnerability in specific regions or countries over time. It also provides summaries of the existing academic literature on the drivers of vulnerability. End users can create their own composite indices and export maps and graphs to be used in presentations and reports. This makes it a powerful research tool, enabling policymakers & pundits, scholars & students, and everyone else taking a keen interest in their security environment to explore the intricacies of intrastate conflict. Read more on the DOV Monitor page.
Currently there are monitors under construction on the following topics:
Cyber Dynamics
Great Power Assertiveness
Global Conflict and Cooperation Index
Tools
The HCSS Data Warehouse uses the client-server model. From the server side, the powerful HP Vertica relational database management system allows us fast querying of large amounts of data. The client-side tools we currently use are the following:
Tableau for producing visuals and analysis used in reports and issue briefs;

Metabase for simple interactive visuals, tables and dashboards;

Shiny by RStudio to create tailored online interfaces, including dashboards and storyboards with broad interactivity and reactivity. Using the statistical programming language R, a wide range of advanced analytical techniques can be used.
Contact
For more information, please contact Hannes or Tim.