IMCCS | Decarbonized Defense: The Need for Clean Military Power in the Age of Climate Change
Today the Expert Group of the International Military Council on Climate and Security (IMCCS) launched a new report, Decarbonized Defense: The Need for Clean Military Power in the Age of Climate Change, the first in a series of papers comprising the third annual World Climate and Security Report. The paper warns that militaries must accelerate efforts toward net zero to achieve a win-win-win: minimize fossil fuel-related operational vulnerabilities, undermine petro-dictators like Vladimir Putin, and combat climate change.
The report reveals that there are high operational costs of continued fossil fuel use by militaries, and recommends that security leaders across NATO and the EU seize opportunities to ensure that low carbon considerations and energy efficiency standards are key factors in new procurement processes, research and innovation. The authors note that the war in Ukraine is a turning point for sustainable change, and that ministries and departments of defense can lead broader technological change across society by creating enough demand signals to spur innovation and enable the private sector to bring low-carbon solutions to the market.
The IMCCS Expert Group will also release a report on climate security adaptation practices and gaps among NATO militaries. It will also release subsequent papers on climate security risks in the Balkans, Eastern Mediterranean and the Sahel, derived from the The Hague Centre for Strategic Studies (HCSS) Climate Security Risk Monitor, a tool for examining relative climate hazard risks in countries around the world. These papers will be part of the World Climate and Security Report 2022 series.
In highlighting the importance of the World Climate and Security Report 2022, the Chair of IMCCS, General Tom Middendorp, former Chief of Defence of the Netherlands, stated:
We have passed the points of debating the urgency of Climate Change and whether or not Climate Change is also a matter of national security. This has now widely been recognized by an increasing number of countries and International Organizations like NATO and EU. It is time to walk the talk and to develop solutions. This series of IMCCS papers is meant to help develop the role of security institutions around the world and translate that into practical contributions and policies. The security sector has a role to play in forecasting the security effects of Climate Change, and in the area's of mitigation and adaptation, as part of a whole-of-society effort.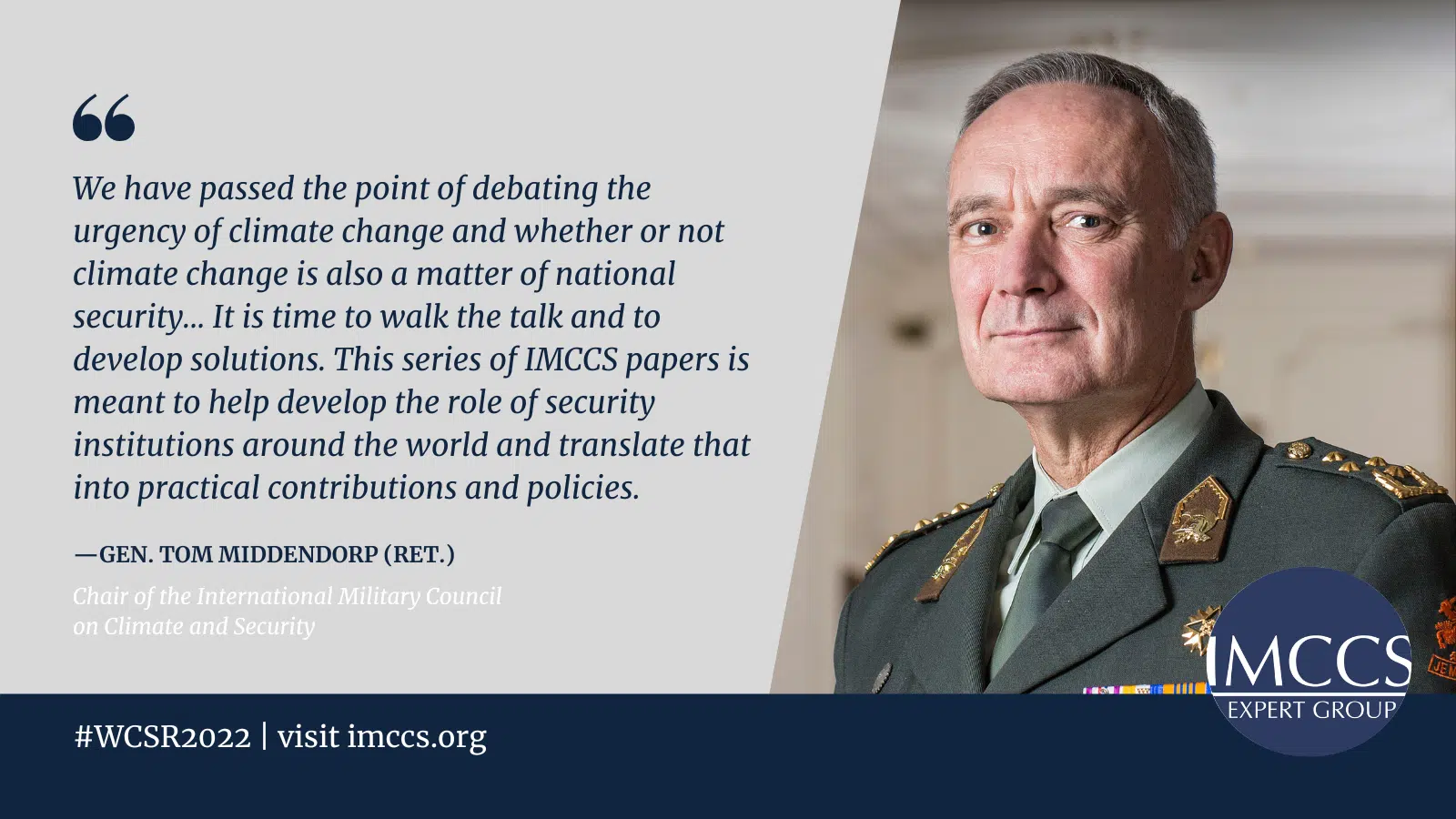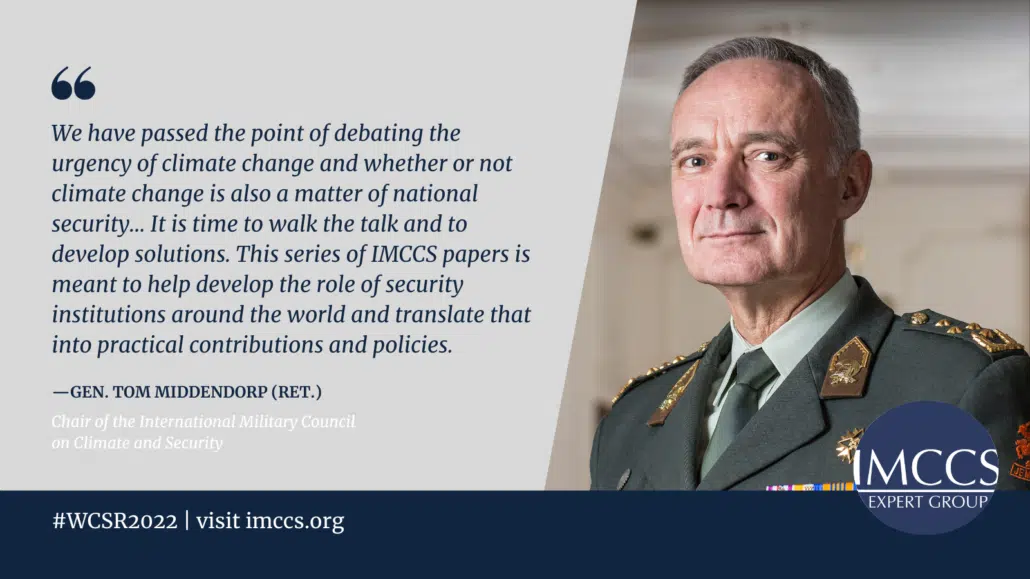 The IMCCS Secretary General, the Honorable Sherri Goodman, former U.S. Deputy Undersecretary of Defense and now Senior Strategist at the Center for Climate and Security, stated:
Security and defense organizations have long recognized climate change as a threat multiplier for increasing risk in both fragile and stable regions. To reduce climate risk and speed the energy transition, we must decarbonize every sector of society. This new World Climate Security Report on Decarbonizing Defense shows how the defense sector can lead by example through a common approach to carbon emissions mapping and technology innovation. Today, there is no commonly agreed method to measure and report emissions from military activities. As large energy users, militaries must prioritize climate action and decarbonize their energy use. Defense organizations and the defense sector overall can lead in decarbonizing their activities, creating a triple bottom line of reducing costs, improving operational readiness, and reducing climate risk.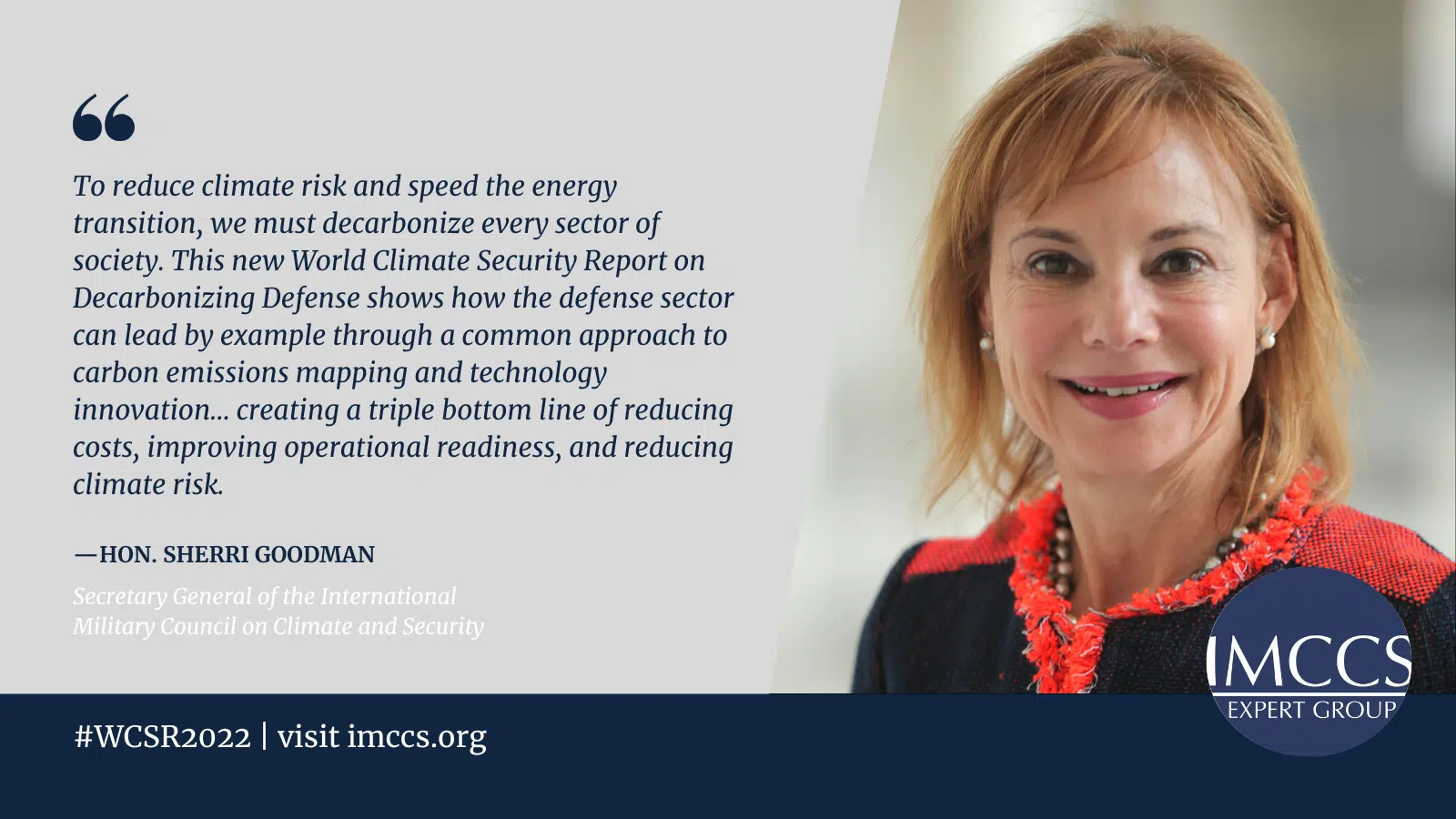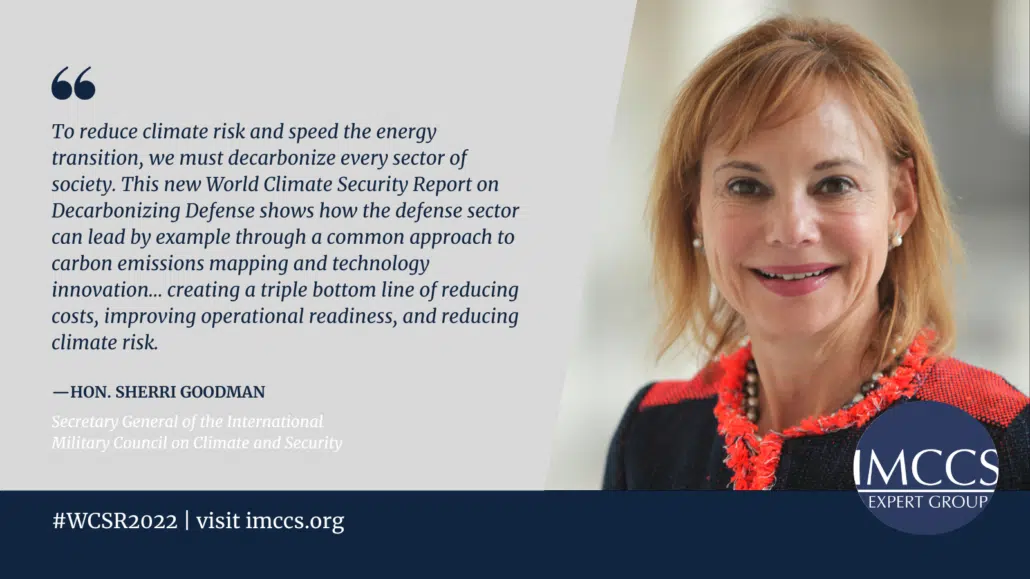 Michel Rademaker, Senior Member of the Executive Committee of the IMCCS, Deputy Executive Director of The Hague Centre for Strategic Studies (HCSS), and lead creator of the Climate Security Risk Monitor, offered:
Now that more and more data is available organizations are asking the question what to do? Adaptation and mitigation requirements will have to be identified and made actionable. The Climate Security Monitor could be useful, as well as the paper series but also climate security games that were and are to be developed as part of the practice of creating situational awareness and understanding and enhance insights into policy perspectives, investment and innovation activities for both defense and security organizations, NGOs and industries.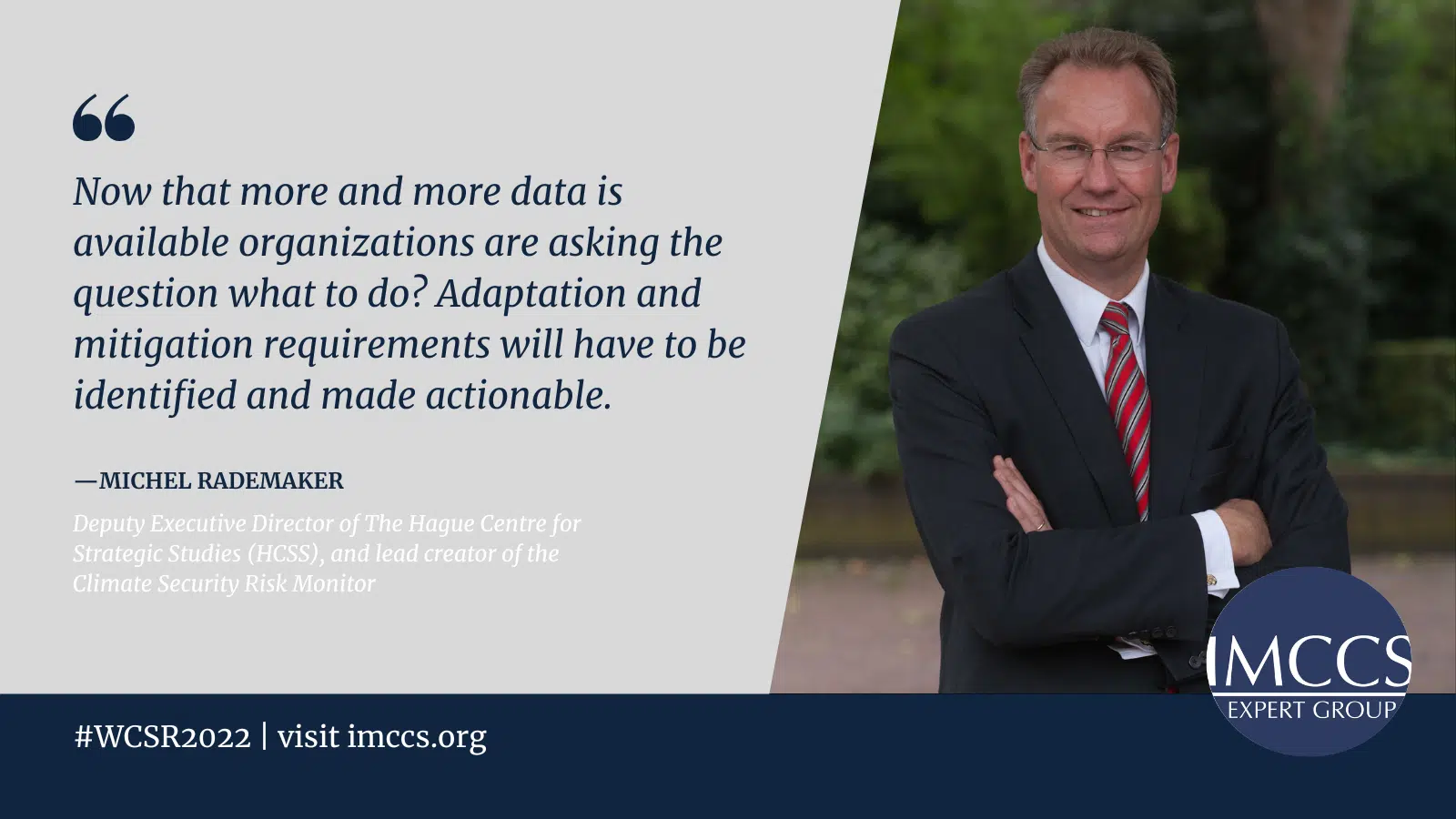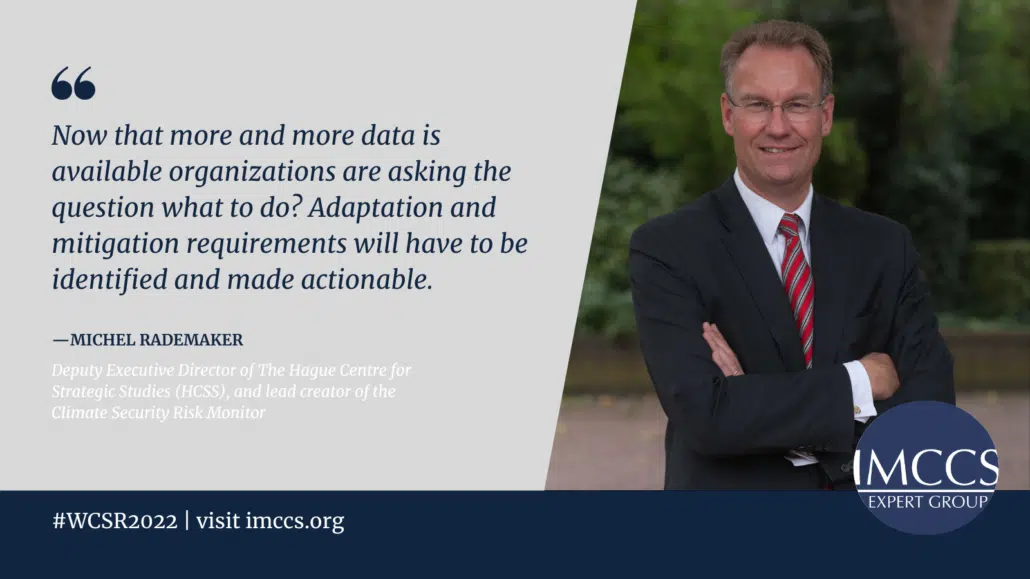 Read the full report here or click the download button.
Our virtual launch event features remarks from IMCCS leadership, the Honorable Sherri Goodman and General Tom Middendorp (Ret), as well as the Luxembourg Minister of Defense Francois Bausch, NATO's Assistant Secretary General for Emerging Security Challenges David Van Weel, and the CEO of the Global Center on Adaptation, Dr. Patrick V. Verkooijen. The conversation is moderated by IMCCS director, Erin Sikorsky.