FACTS Asia, Friedrich-Ebert-Stiftung (FES) Philippines, and Foundation for the National Interest (FNI) present the second instalment in the European Foreign and Security Policy in the Indo-Pacific Webinar series titled "Evolving Frontiers in Maritime Governance".
The webinar aimed to explore the changing dynamics of maritime governance. As regional states are increasingly challenged to balance interests in maritime security while preserving sustainable biodiversity and allowing private actors to secure business interests, the webinar will examine which possible partnerships and cooperation states pursue in the aforementioned realms and what role the European Foreign and Security Policy with its Indo- Pacific Strategy can play.
As one of the speakers, HCSS strategic analyst Benedetta Girardi highlighted the importance of inclusivity in building cooperation and partnership with Indo-Pacific states in the recent Webinar on Evolving Frontiers in Maritime Governance:
"The core of Europe's engagements in the region has to be and should be meaningful partnerships with regional states. It cannot only be states that traditionally share values and beliefs, but the EU has to keep an open mind and be aware of the diversity of regional actors and states in the Indo-Pacific."

Benedetta Girardi
Ms. Girardi discussed Europe's role in guarding the Maritime Commons and how this will involve a partnership between the EU and the Indo-Pacific states. She notes that despite the distance of Europe to the region, the EU is first and foremost interested in protecting its economic interest. EU's strategy indicates a signal of committing narrow presence through joint exercises, protocols, and strengthening diplomacy with regional actors. Hence, she contends that the EU is interested in cooperating in three policy areas: (1) maritime law enforcement, (2) tackling new security challenges such as cyber threats, and (3) environment and climate. In this manner, creating and maintaining partnerships between the blocs are important strategies in navigating the complex environment in the Indo-Pacific.
The webinar featured three distinguished experts:
Mr. Gunther Errhalt, Founder and Head Consultant of Errhalt Consulting;
Dr. Charina Lyn Amedo-Repollo, Deputy Director for Research and Development Marine Science Institute University of the Philippines Diliman;
Ms. Benedetta Girardi, Strategic Analyst of The Hague Centre for Strategic Studies (HCSS).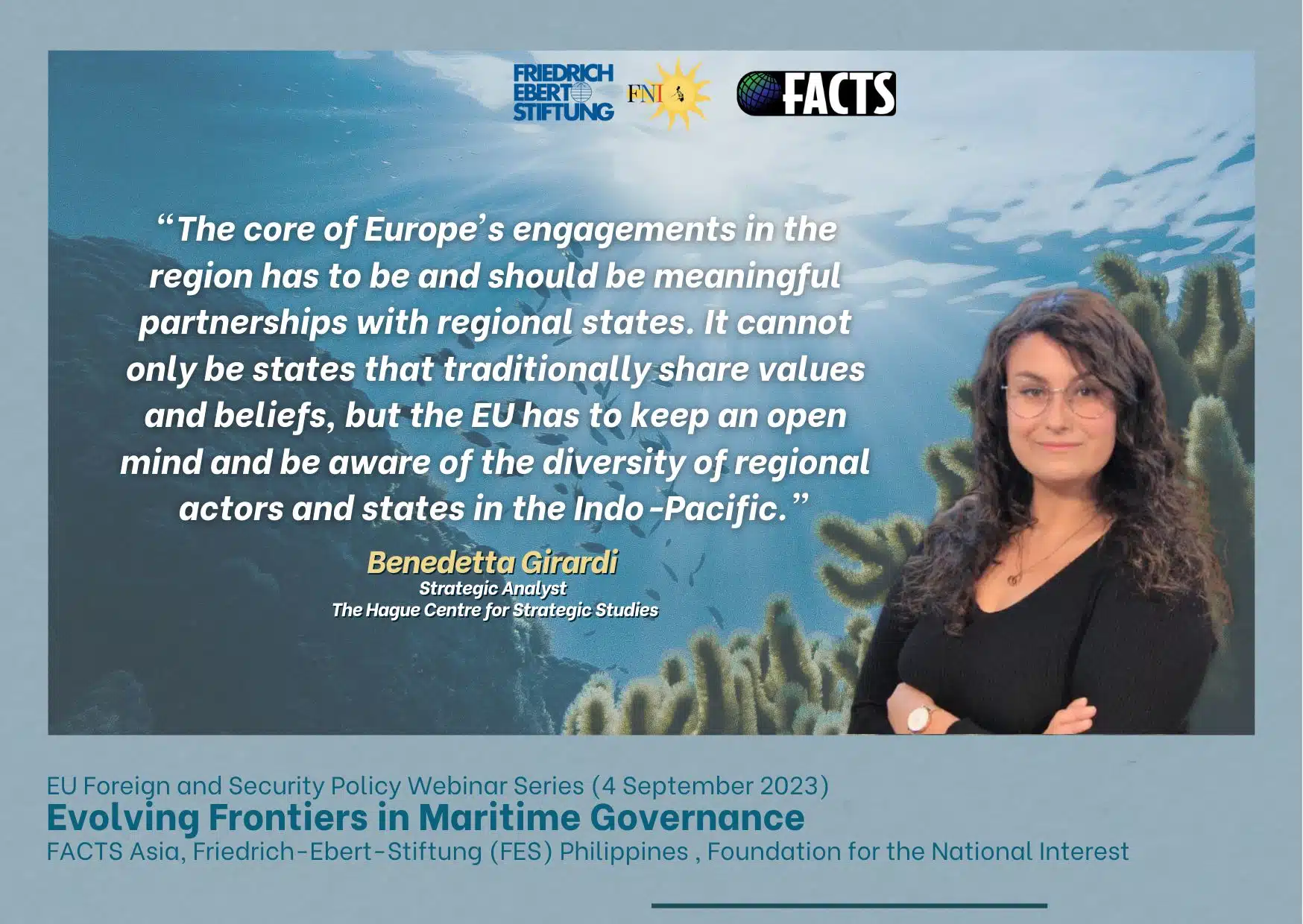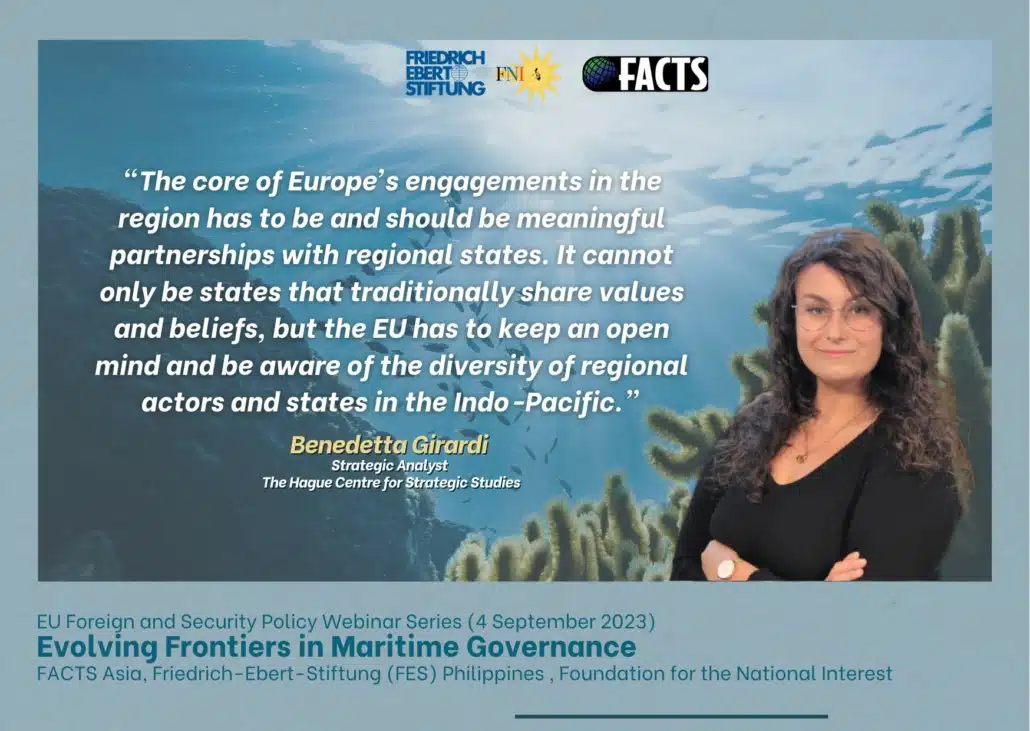 Participants raised a variety of questions during the open forum: (1) how the EU and Germany can help the Philippines in improving its maritime governance, (2) the security and business considerations in improving maritime governance for archipelagic states, (3) the impact of China's newly released 10-dash line with EU's Strategy, (4) and cooperation between governments and private sector in vessel tracking in the South China Sea.
For more details read the official press release here.
Source: FACTS, September 11, 2023 / September 6