"Build Back Better" is the slogan used by the advocates of the Biden Administration's Infrastructure Investment and Jobs Act. The bipartisan backed infrastructure bill that came into law on 5 November '21 aims to stimulate demand for domestically sourced materials. But will the U.S. be able to supply all of the metals it needs to execute the projects under the US$ 1.2 trillion new law?
According to the American Iron and Steel Institute (AISI), demand for American steel could increase by as much as five (5) million tons for every US$100 billion of new investment under the new law. With the ambitions to set up American (domestic) supply chains for raw materials, there is tremendous pressure on local companies to ramp up production of the materials that are required to realize these projects. Steel is just one of them. The new law will jolt demand for industrial metals and battery materials as the country pours funding into everything from solar panels and electric vehicle charging stations, to roads, bridges and public transportation. A good example is copper. The ambition to build America's first network of EV charging stations by placing at least 500,000 fast chargers along the nation's highways will ramp up the demand for high amperage thick cables to supply electricity to fast-chargers. Copper will play a crucial role, as it is the best conductor of electricity.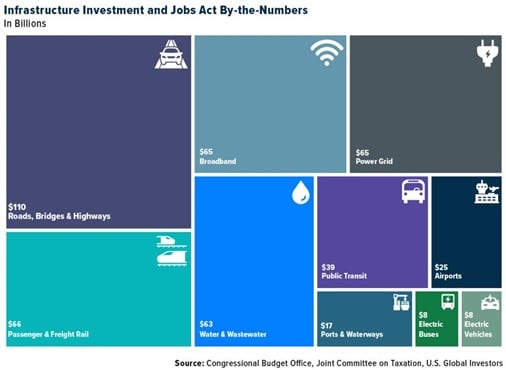 The U.S. seems to be heading for the perfect storm. The country is well into its economic recovery from the COVID-19 pandemic with major steel companies already operating near full capacity and the country lacks a strong local upstream industry for the mining and processing of the critical minerals so desperately needed to accommodate the transition to a clean energy system. The absence of an upstream industry for critical minerals is perhaps the biggest vulnerability to the country's supply chain.
Setting up an American supply chain for critical minerals
Under the new law, the U.S. Department of Energy (DoE) is authorized to release US$6 billion in funding through loan and grant programs aimed at advancing battery material processing, as well as battery manufacturing and recycling. The bill also codifies an initiative within the U.S. Geological Survey (USGS) to collect critical mineral resource location data. According to the USGS, the U.S. has only explored 12% of federal lands for the presence of critical minerals resources. That means the country is missing out of opportunities to explore for and mine critical minerals at home. The new law also aims to cut through the jungle of federal permitting for mining projects in an attempt to support the mining of critical minerals on federal land. Today there are about 36 different federal laws and regulations governing the permitting process for mining. One has to bear in mind that each individual state has its own set of local regulations as well.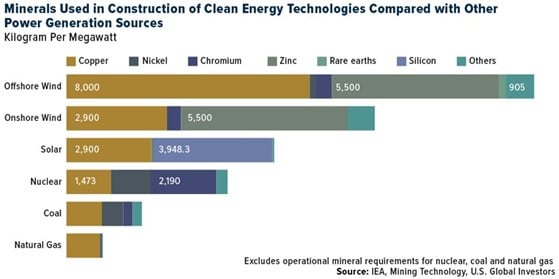 Programs to improve U.S. competitiveness by taking more control of raw materials supply chains are a crucial part of the framework of the Infrastructure Investment and Jobs Act. However, it will take years before these programs will bear fruit. In the meantime, the U.S. will have to deal with the paradox that it gradually becomes more dependent on imported industrial metals and battery materials at a moment when steel, iron ore, copper, lithium and several other metals are already in tight supply. The lack of upstream infrastructure in the U.S. means that critical minerals are imported and undergo various chemical processes — such as concentrating, refining and smelting — in China. China has a firm grip on the processing of several critical minerals and forms the epicenter for battery anode, cathode and electrolyte production. The U.S. lags far behind in capacity.
What to do in the meantime?
The only way the U.S. will be able to make its infrastructure plans a success is by collaborating with other countries. Reaching out to resource rich allies such as Canada and Australia is obvious. Less obvious and perhaps even bold is to reach out to Chinese companies. China did not become a critical minerals superpower by itself, overnight. It accepted, after two oil crises, that it lacked the technology and expertise to create an energy system that was not dependent on fossil fuels. It invited foreign companies to deploy their expertise in China to help build a critical minerals supply chain but, all this time, made sure that it kept control of its mines and over its domestic projects. Instead of fighting over pieces of the metaphorical cake, perhaps the two superpowers can find a way to make the cake larger. Many Chinese companies – from refiners to battery makers – are eager to enter big promising markets like the U.S. and Europe. Europe has acknowledged this and is already collaborating with CATL, the world's largest battery producer, to construct a gigafactory in Germany. Partnerships on a quid pro quo basis, whereby the US and EU open their market for foreign technology and money but in return sign agreements with Chinese companies to jointly develop new upstream assets, could be a collaborative way to make the cake larger. The world will need all the critical minerals and processing capacity it can get if economic powers like the U.S., the EU and China are serious about climate change. Chopping up the world in 'spheres of influence' to secure access over assets that hold critical minerals only makes sense if you have the know-how, capacity and funding to actually develop these assets. If you do not have that (yet) then perhaps it's worth working with those who have in the meantime.
© Jeff Amrish Ritoe 17 November 2021, Bangkok