"Anders dan in bijvoorbeeld Duitsland zijn er in Nederland weinig vrouwen die zich bezighouden met defensievraagstukken. Ik zou dat graag anders zien. Het is een van mijn drijfveren om me met dit vakgebied bezig te houden."

HCSS is ontzettend trots op onze strategisch analist Lotje Boswinkel, die door EW Magazine is verkozen tot één van de dertig talenten onder de dertig jaar die de komende jaren in de gaten moeten worden gehouden!
Lees het artikel hier (tijdelijk zonder betaalmuur).
Bestel de papieren EW hier: https://tijdschriftnu.nl/products/ew-nummer-17-2022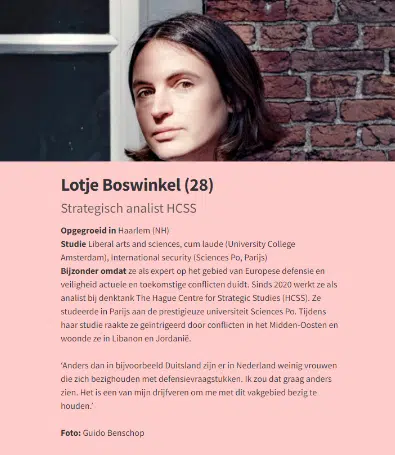 Lotje Boswinkel (28)
Strategisch analist HCSS
Opgegroeid in Haarlem (NH)
Studie Liberal arts and sciences, cum laude (University College Amsterdam), International security (Sciences Po, Parijs)
Bijzonder omdat ze als expert op het gebied van Europese defensie en veiligheid actuele en toekomstige conflicten duidt. Sinds 2020 werkt ze als analist bij denktank The Hague Centre for Strategic Studies (HCSS). Ze studeerde in Parijs aan de prestigieuze universiteit Sciences Po. Tijdens haar studie raakte ze geïntrigeerd door­ ­conflicten in het Midden-Oosten en woonde ze in Libanon en Jordanië.
'Anders dan in bijvoorbeeld Duitsland zijn er in Nederland weinig vrouwen die zich bezighouden met defensievraagstukken. Ik zou dat graag anders zien. Het is een van mijn drijfveren om me met dit vakgebied bezig te houden.'
Foto: Guido Benschop